Finally, a Southern Island family member "Tahiti" just recently arrived at my doorstep. It is the first video card in the world which fully supports PCIE Generation 3 and uses the latest 28nm fabrication. The new die size, allows them to place more transistors in the GPU chip, makes them more power efficient and cooler.
With the release of the Radeon HD 7000 series video cards, Eyefinity is upgraded to version 2.0 which supports surround audio to your multi-monitor setup, creation of custom multi-monitor resolutions and a new 5x1 landscape mode has been added.
•GPU Clock: 925MHz
•Memory: 3072MB (3GB) 5500MHz
• Memory Bus: 384-Bit
•Stream Processors: 2048
•Video Output Function: Dual-link DVI x1 / Mini DisplayPort x2 / HDMI x1
As you notice the VC is packed with a whooping 3072MB of memory and 384-Bit memory bus speed. The purpose of this is for a richer and smoother gameplay experience when AMD Eyefinity or multi montor is in use.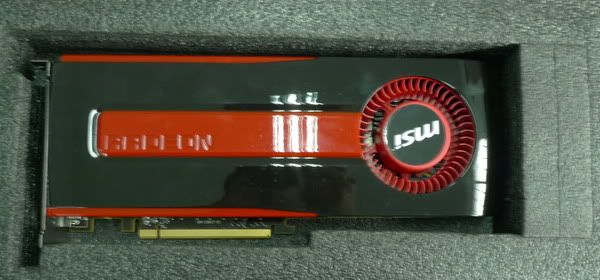 Accesories:
Bundled Accessories
•Software Utility Disc and Manuals
•Crossfire Bridge
•DVI to VGA Adapter
•Mini DP to DVI Adapter
•Mini DP to DP Adapter
•HDMI to DVI Adapter
•PCIE 6Pin Power to 4Pin Molex
•PCIE 6Pin to 8Pin
Next, some benchmark scores to show how good the card performs. It has a high OC potential even with its default cooler. To fully tweak the video card, I downloaded the latest MSI Afterburner 2.2.0 Beta 12. Set the fan at 60% only and bump the GPU Voltage, Core and Memory.
Below is my system configuration:
•Processor: Intel i7 3960x
•Cooler: Thermaltake Advanced Trio
•Motherboard: MSI Big Bang X-Power II
•Memory: Kingston HyperX T1 3x1GB DDR3 2133MHz
•Hard Disk: Corsair Agility 3 120GB
•Power Supply: Antec TPQ 1200W
•Software: Windows 7 Ultimate 64Bit, Official driver support for Radeon 7970, CPU-Z, GPU-Z, Realtemp, Futuremark Benchmark Software, Heaven Benchmark
1st set of benchmark run. Processor and video card at stock speed.
• 3dmark06 – 29495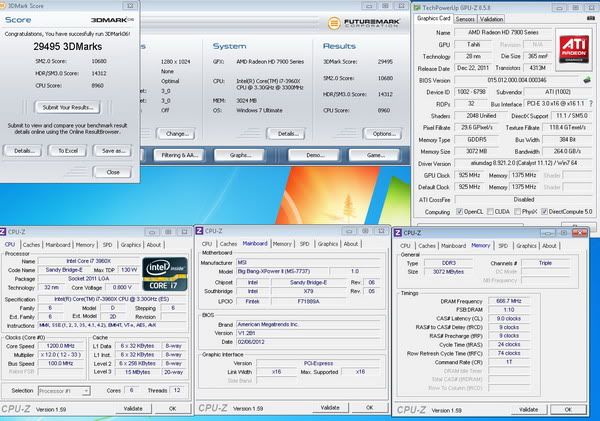 • 3dmark Vantage – P33974
• 3dmark11 Performance – P7988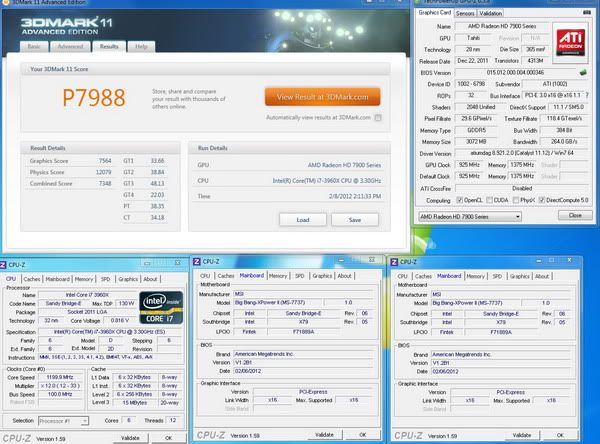 All test done by my friend Gzhil of TPCcommunity. Thank you for sharing. :)