I just finished testing out the MSI N680GTX-PM2D2GD5 video card and I was amazed what it can do. This is the latest codename "Kepler" (GK104)GPU Chip that Nvidia released which uses the new 28nm fabrication process technology. The card length is 10" inches long but boasts 1536 shader (CUDA) cores. It has a maximum of 195W power draw and now using the PCI-Express Generation 3.0 data path. As for memory is concerned, it features a 256-bit memory bus connected to 2GB of GDDR5 of memory and soon 4GB version will also be available.
Focusing more on the features of the Kepler. The new architecture do boast out a very high framebuffer bandwith structure. Its a combination of massive memory and core partitions and of the GDDR5 memory. Aside from this, it has also the so called "Dynamic Clock Adjustment Technology" which boost up the speed of the GPU core while stays within the Total Draw Power Bracket. From a standard speed of 1006Mhz it can go up as high as 1058-1124MHz. Like Intel's Turbo Boost Technology :)
Moving on, 3D Vision Surround is now doable in a single GPU configuration unlike before you need atleast 2 video cards in SLI. You can hook up to 4 displays (3840x2160 resolution) with multi streaming audio capability.
Below are still other Features of the Kepler GPU:
•Adaptive V-Sync - adjusts vertical sync to your current frame rates for a stutter-free gaming experience
•AA TXAA (Temporal Super Sampling) - s a new style anti aliasing technique that make the most of the graphics card high texture performance. TXAA is a mix of hardware anti-aliasing, custom CG style AA resolve and in the case of 2x TXAA an optional temporal components for better image quality
•Supports DX11.1
Now going back with MSI's GTX680 :) Here is the package. Starting with the back area of the box.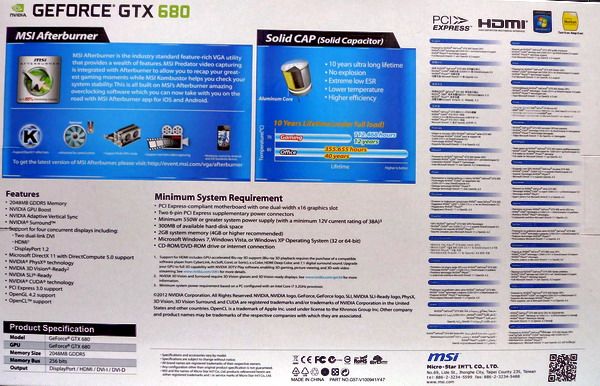 If you read the information closely. The minimum PSU requirement for running the card is a
Bundled Accessories
•Quick User Guide, Manual and Utility DVD Disc
•DVI to VGA Adapter
•2x 6Pins to 4 Pins Molex Connector
Here is the card. Nothing unique and the design is still based on Nvidia's reference card.
Basic Specs Below:
•GPU Core Clock: 1006MHz (Boost Clock:1058MHz)
•Memory: 2048MB GDDR5 6008Mhz
Video Output Function
•Dual-link DVI-I x 1
•Dual-link DVI-D x 1
•DisplayPort x 1
•HDMI x 1
Processor: Intel Core i7 3960X @ Stock & OC Speed
Cooler: Thermaltake Advanced Frio
Motherboard: MSI X79A-GD65 8D
Memory: Kingston HyperX Genesis Special Edition 2x2GB DDR3 2133MHz
Harddisk: OCZ Technology Agility 3 160GB
PSU: Antec TPQ 1200W
Software: Windows 7 Ultimate 64bit, Futuremark Bench Softwares (3dmark06, 3dmark Vantage, 3dmark11), Heaven, CPU-Z, GPU-Z, MSI Afterburner 2.2.0 Beta 15
The following were all results from a stock speed system configuration.
•3dmark06 based on DirectX 9 language
•3dmark Vantage based on DirectX 10 language
•3dmark11 based on the latest DirectX 11.
credits to my friend gerald of TPC Ph...
Grow thick anodyne flowers